Stand out in the crowd at the baggage carousel with our Pictaleather high quality rectangular luggage tags. Sturdy and weatherproof, Pictaleather luggage tags can stand-up to the travel demands of any road warrior or adventure seeker. Our exclusive Pictaleather products are printed using sublimation transfer and show your designs, text, and photos in vibrant clarity and brilliant colours. Complete with luggage fastener.
Large tag for visability
2 sided printing
Vegan friendly faux leather
3" x 4"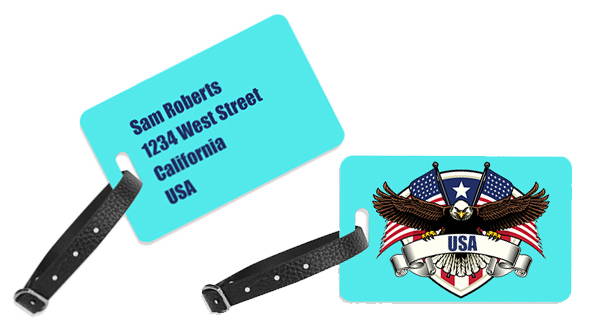 Size: 1386px x 834pixels

Resolution: 200 dpi
Colour Space: RGB
File Type: JPG or PNG
How To Design For Luggage Tags
How To Use Product Mock Up Files
Product mock up files are used to create realistic marketing images onto which you can apply your own designs. You can then use these images for your Facebook ads or any other marketing needs

The mock up files will only work with Photoshop v6.5 and above
If you do not have Photoshop don't worry our app generates mockups automatically for all our products
Please note the mock up files are quite large so download accordingly