Magic Color Change Mug 11oz
The Durham 11oz full color printed magic photo mug is coated with a heat sensitive coating, when hot liquid is poured in the mug the coating turns transparent revealing the printed image underneath. As the mug cools the heat sensitive coating restores to its original dark colour.
Due to the heat sensitive coating we recommend hand washing this item only. Not recommended for use in a microwave oven.
Color changes and reveals image
Scratch resistant
Triple A quality
11oz volume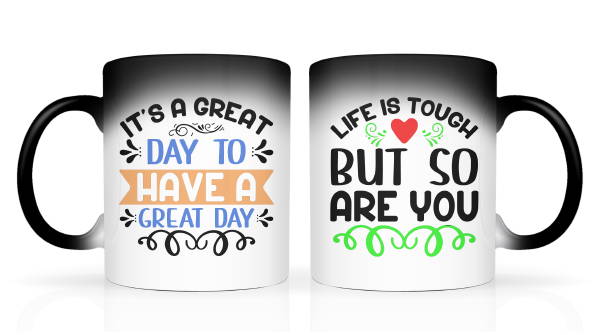 11oz Color Change Magic Mug
Prices $6.95
Size: 1589 x 661 pixels

Resolution: 200 dpi
Colour Space: RGB
File Type: JPG or PNG
How To Design For Magic Mugs
How To Use Product Mock Up Files
Product mock up files are used to create realistic marketing images onto which you can apply your own designs. You can then use these images for your Facebook ads or any other marketing needs

The mock up files will only work with Photoshop v6.5 and above
If you do not have Photoshop don't worry our app generates mockups automatically for all our products
Please note the mock up files are quite large so download accordingly