Jewelry With Message Card
With the personalized jewelry and accessories market exploding we are pleased to bring you our new range of jewelry with accompanying personalized message cards.

We are launching our range of 4 different products which by 4th quarter we hope to have expanded to around 15 items
Our launch products included The Enduring Love Knot, The Enchanting Ribbon, The Eternal Heart & The Love Drop.
All our jewelry is crafted from stainless steel and coated with white gold giving a sumptuous luster and glean. For those products that include stones we use the best clear cut cubic zirconia for that extra sparkle.
Each pendant ships with a high quality adjustable chain with secure fastener and gift box that includes a personalized message card
White Gold Finish Over Stainless Steel
Adjustable Chain
Personalized Message Card
Cubic Zirconia Stones
Gift Box Included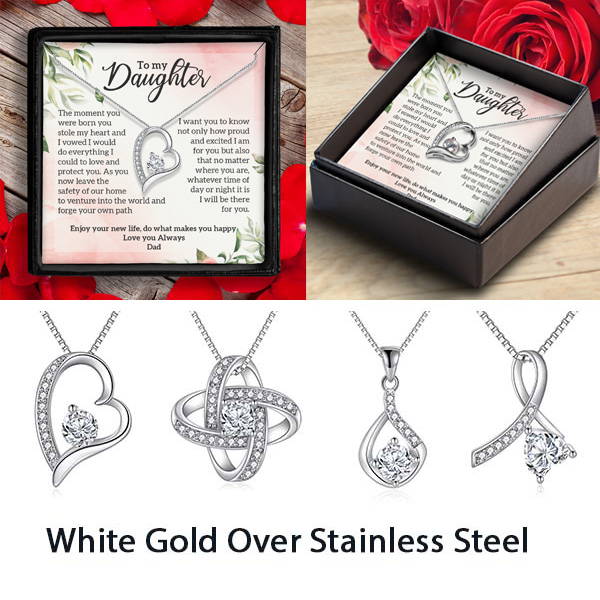 Jewelry
Eternal Heart
Enduring Love Knot
Love Drop
Enchanting Ribbon

Price: $12.95

Size: 1122 x 1122 pixels

Resolution: 200 dpi
Colour Space: RGB
File Type: JPG or PNG
How To Design For Jewelry Box
How To Use Product Mock Up Files
Product mock up files are used to create realistic marketing images onto which you can apply your own designs. You can then use these images for your Facebook ads or any other marketing needs

The mock up files will only work with Photoshop v6.5 and above
If you do not have Photoshop don't worry our app generates mockups automatically for all our products
Please note the mock up files are quite large so download accordingly
Watch The Jewelry Mock Up Video