A stunning unique and on trend gift our personalized vertical stick bar necklaces make the perfect gift for your loved one, special friend, wedding gift graduation or more.
Available in Polished Stainless Steel or Polished Gold over Stainless Steel the pendant measures 2" x 0.2" and ships with an accompanying 18" cable chain with 2" extender for the perfect fit.
Our stick pendants are accompanied with a standard personalized message card or with our Lumenglass message displays, making this a truly amazing gift that will bring warmth and love to the recipient.
Polished stainless steel or
Polished gold over stainless steel
18" matching cable chain with 2" extender
Available with standard card message or
Lumenglass message stand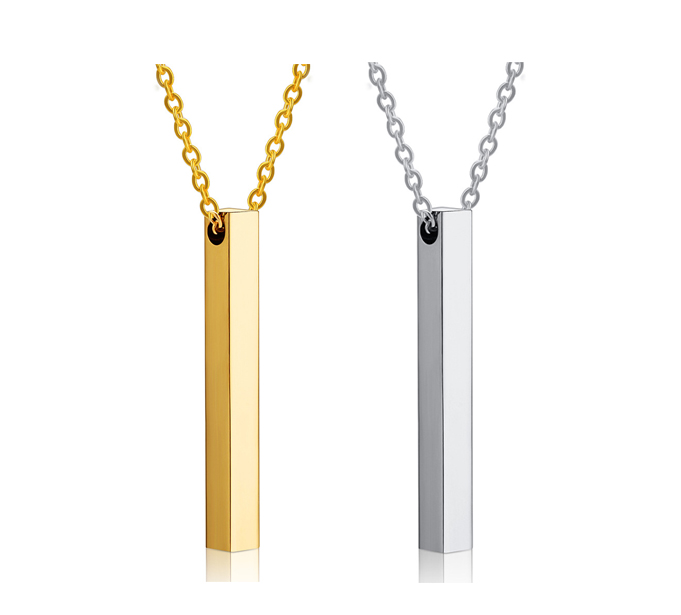 Polished Gold Stick With Message Card
Polished Gold Stick With Lumenglass Stand
Polished Stainless Steel Stick
Polished Stainless Steel Stick With Message Card
Polished Stainless Steel Stick
Polished Stainless Steel Stick With Lumenglass Stand
Polished Stainless Steel Gold Stick Pendant With Message Card
Polished Stainless Steel Stick Pendant With Message Card
Polished Stainless Steel Gold Stick Pendant With Lumenglass
Polished Stainless Steel Stick Pendant With Lumenglass
Card Template Size Size: 1122 x 1122 pixels

Lumenglass Template Size: 1039 x 1039 pixels
Resolution: 300 dpi
Colour Space: RGB
File Type: JPG or PNG
How To Design For Card Messages
How To Design For Lumenglass
How To Use Product Mock Up Files
Product mock up files are used to create realistic marketing images onto which you can apply your own designs. You can then use these images for your Facebook ads or any other marketing needs

The mock up files will only work with Photoshop v6.5 and above
If you do not have Photoshop don't worry our app generates mockups automatically for all our products
Please note the mock up files are quite large so download accordingly